Hey, guys! This is it – as promised, Day 1 of the Nostalgia Update! Starting off five days of comic re-releases for the brand-new Metrocop Comic Archive, to be fully unveiled this coming Friday, October 24th, 2014!
I'm afraid Day 1 isn't much of a surprise though. If I had my way, this would've been the biggest secret of the update, taking everyone by surprise. It was "leaked" months ago, though, by none other than… the author himself!
Alright, I'll just say it outright before the more patient of you lot scroll down as well – today's Clover Day! Featuring Jeff, Secret Agent Whiskey and a few other comics by Jeff "Clover" Eastman! That's 127 comics in total, a little over half of the new Comics Archive!
Even if they're not exactly as huge a surprise as I hoped, I think it's still great for one of the quintessential Garry's Mod classics to come back online, after so many years lost. I'm particularly excited for people who've never seen these to read them for the first time – in a way, I envy you!
Okay, I have a couple more things to say, but let's cut the chase here – you're here for comics, so here they are! Click the banner to be directed to the respective page (and get a first look at the appearance of the new comic pages):
(Oh, and, just to clarify because you'll see their logo a bunch of times in these, I'm in no way officially affiliated with the now defunct PHWOnline. That logo was already "watermarked" in these, and I would keep it anyway out of respect)
Just because this is the largest release of the week doesn't mean you shouldn't come back, though! Tomorrow has a few more releases in store – a lot less, I'm afraid, but they're a bit more personal to me in particular. I hope you'll check back tomorrow at the same time for Day 2, and keep your eyes peeled for the big releases in the following days! If you wanna make sure you're always up to date, please consider subscribing to Metrocop.
And, of course, enjoy!
(Yes, I ripped off Team Fortress 2. Shut up.)
The Nostalgia Update is basically a fancy way of presenting the one thing I've been promising for Metrocop for ages: the comic archive! This isn't an ordinary collection of just my old crap, though, oh no – this gets a fancy name and announcement because the Nostalgia Update will bring a whooping 246 comics online for public consumption! That's right – over two hundred comics, all in one place! That's a massive collection of Garry's Mod comics and only slightly less in numbers than your individual porn stashes!
None of those comics are brand new releases, however; they're all comics from way back, from as early as 2005 to as late as 2011, hence the "Nostalgia" part of the name. Still, I'm fairly sure a lot of them will be new to most people, and it's great to finally have a big archive of GMod comics back online after so many years.
That said, 246 individual comics is a lot of stuff, so here's what I'm gonna do: rather than just overwhelm people by posting everything straight away, throughout the next week I'll be posting a part of the archive online every day, from Monday to Friday, and then officially unveil the archive page itself on Friday alongside the final release. That means one release a day the whole of next week, beginning October 20th, 2014 and ending October 24th, 2014! That gives every comic a chance to shine and gives you a good reason to at least keep coming here for a bit. The daily releases will be at 8AM GMT - that's proper time, not Valve time!
Still, it's not like I'm gonna release 49.2 comics every day. Monday, Wednesday and Friday will be the largest releases with large numbers of comics (Monday being the biggest); Tuesday and Thursday will be smaller-scale releases. And no, I'm not gonna announce what I'm releasing – every day will be a surprise! (Although savvy people that pay attention to the GMod comics scene will probably guess what's the huge release on Monday)
Alongside the main event there are also some minor additions to the site itself. The first one is actually already here – the brand new Metrocop logo! It's shiny, glossy and a wee bit more comic book-y than the previous minimalist one. I hope you like it! Alongside that there'll also be changes to the menu at the top of the site, streamlined for your convenience. The site will basically be more appealing, easier to navigate and have more archived content for you to browse – an improved Metrocop.net, a site that the Garry's Mod comics community deserves!
Alright, that's pretty much it for now, I'm afraid – I would apologize for leaving you hanging during the weekend, but hey, that's part of the fun, right? Let the anticipation grow, because starting on Monday, old GMod comics get a new lease in life! And who knows, perhaps those will inspire people to make some new ones! If you wanna stay up to date and receive an e-mail the moment those new comics pop up, please consider subscribing.
That's that, see ya very soon!
Hey, guys! I saw something useful online and, since there may be people visiting the site who want to make comics themselves, decided to post it here.
It's a tutorial for how to organize text properly in speech balloons by Nate Piekos, who, among other things, is a professional comic book letterer and the man behind Blambot, the most useful site for comic fonts. I've always done these as sort of an unwritten rule myself, but I think it's good to have an image that explains how to stack text in a speech balloon, since most people don't seem to get it and end up doing awful-looking balloons.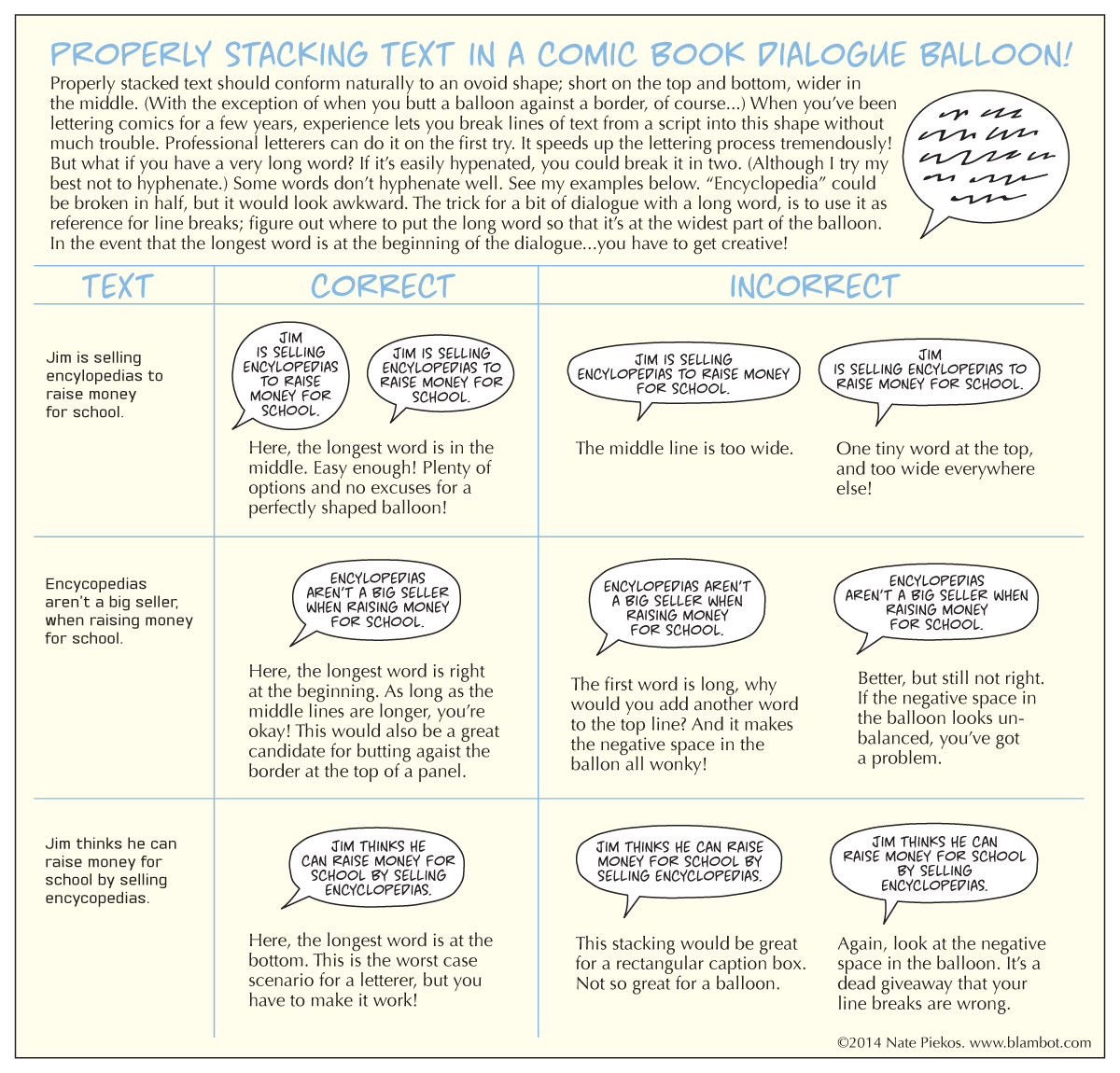 Next up, I should actually make a tutorial on how to make speech balloons…